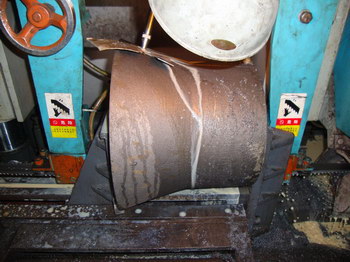 Chainsaw Cutting Machine
With alloy saw, the cutting machine can destructively inspect the inside defects of grey iron and ductile iron castings. This inspection is visual and accurate, and especially effective to inside shrinkage and slag inclusion. As ductile iron, the ultrasonic inspection can not distinguish small shrinkage defects, which will be dangerous for pressure-bearing casting parts.
Although destructive inspection can not exam all castings in batch production, it could be very useful for inspection to samples, improving casting pouring process, and also could be used for random inspection during batch production.
The followings are the cut section of ductile iron castings.