1. Making Metal Pattern
Iron patterns are the necessary tooling for automatic molding line, so the pattern cost is high comparatively. The metal patterns are made by CNC milling machine, so the dimensional tolerance and surface quality are very good.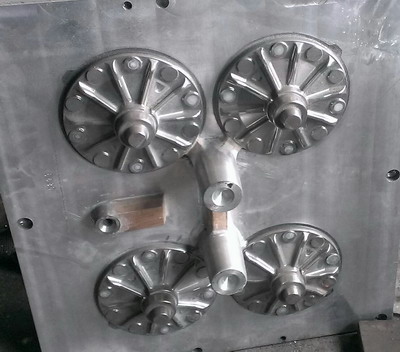 2. Automatic Molding
The automatic molding line can perform the molding process automatically, only need one worker to operate the machine.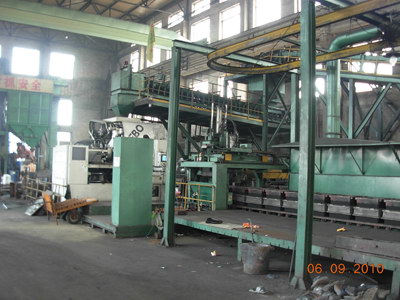 3. Melting Iron
During molding, the electrical furnaces will start to melt the irons. The raw materials for ductile iron and grey iron include pig iron, scrap returns, and alloy agents. Dandong Foundy has four 1.5 tons furnaces.
4. Inoculation Treatment (Nodulizing)
After melting, the workers will move the large pouring ladle to the ductile iron inoculation treatment station. After automatic nodulizing, the raw iron will become ductile iron. Dandong Foundry uses this station to guarantee the stable inoculation quality. The traditional inoculation method can not reach high nodulizing quality.
5. Pouring
After nodulizing treatment, the workers will pour the liquid iron in the large pouring ladle into small pouring ladles. Then, each worker takes one small ladle to pour into the sand molds.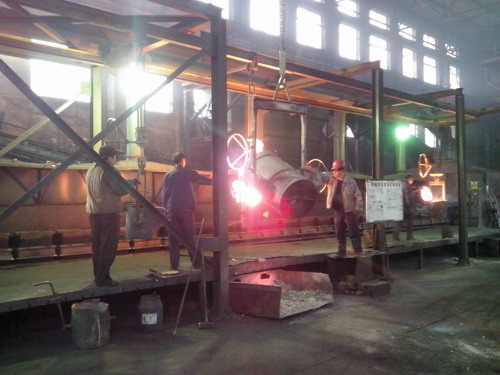 6. Sand Blasting and Grinding
When the castings removed out of sand molds, the iron castings will be cleaned by sand blasting equipments. Then, the workers will grind the gating heads, and parting lines.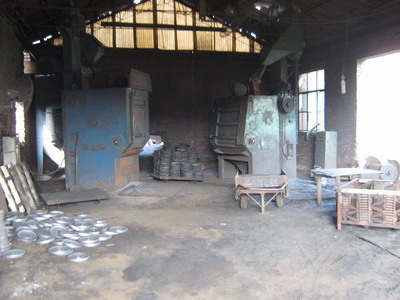 7. Machining
After cleaning and grinding, the castings will be taken to the machining workshop. The workers will machine them according to the machining drawings and requirements. Dandong Foundry can complete the rough and finish machining works in-house.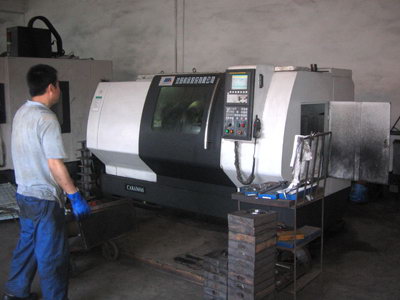 8. Machined Casting Parts
After machining, the casting parts will be completed. Then, they will be inspected and packed for delivery and shipment.