Cast Iron Pan, Grey Iron Cookware Made in China
Our Dandong Foundry is producing this type of small cast iron pan for our clients. This pan is small and sessile, which is a widely used cookware in Japan.

We is producing them by manual green sand casting process. Since they have very thin wall thickness and high requirements to the surface smoothness. So, we produced them by very fine green sand.

Their material is grey cast iron ASTM A48 NO. 20, equal to FC150 in Japan, GG15 in Germany, FGL150 in Franch, T150 in Australia, O115 in Sweden and ISO 150. Grey iron is easier for cast process, and has lower production costs.

Since they are very light, so most of iron foundries in China would not like to produce them, but Dandong Foundry does not have min. order limitation, so we can accept small orders.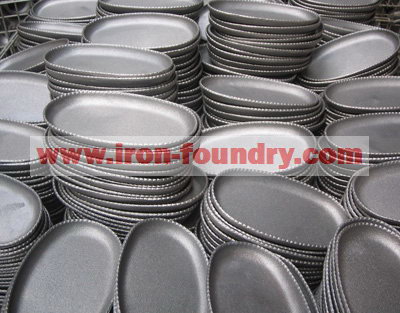 Main Casting Products
Stove Burner
Cast Iron Plate
Manhole Cover Casting
Brake Drum
Warping Head Casting
Ductile Iron Belt Pulley
Cast Iron Flywheel
Boiler Ash Door
Cast Iron Stove Grate
Tractor Gearbox
Pump Body
Cast Iron Brackets
Cast Iron Weight
Gear Casting
Large Cast Steel Bracket
Cast Iron Drainage Pipe
Flange Castings
Cast Iron Pipe Fittings
Burner Grates for Gas Stove
Grey Iron Counter Weight
Cast Iron Axle Support
Cast Iron Blocks
Gas Burner
Cast Iron Truck Castings
Cast Iron Tractor Parts
Cast Iron Stove Parts
Pump Shell and Valve Body
Cast Iron Umbrella Base
Cast Iron Pan, Cookware