Cast Iron GGG40 - Ductile Iron
Cast iron GGG40 is a low grade of ductile iron. Our foundry has produced this material for many years, and herein, we introduce its mechanical and chemical properties and some iron castings made by this material grade.

GGG40 is a ductile iron grade of Germany standard, which is equal to QT400, ASTM A536 60-40-18, 60-40-15, FCD400, GS400-12, FGS400-12, 400/17, 420/12, 400-12, 400-18 and SG38, SG40.

The Mechanical Properties of GGG40

Actually, GGG40 includes 3 types of grades. By European standard EN 1563, they should be EN-GJS-400-15, EN-GJS-400-18, and EN-GJS-400-18LT.

Their main mechanical properties are as followings:
| | | | |
| --- | --- | --- | --- |
| Grades | Tensile Strength (Mpa) | Elongation (%) | Impact Resistance (J) |
| EN-GJS-400-15 | ≥ 400 | ≥ 15 | Not Specified |
| EN-GJS-400-18 | ≥ 400 | ≥ 18 | Not Specified |
| EN-GJS-400-18LT | ≥ 400 | ≥ 18 | 12J at -20°C |
"LT" means for low temperature.

However, if your clients did not denote the specific requirements to the elongation and impact resistance, then the iron foundries should meet the lowest requirements of min. 400 Mpa tensile strength and min. 15% elongation.

The Chemical Properties of GGG40

Normally, the clients will not require the chemical composition, and in international standards, such as ISO 1083, ASTM A536, DIN 1693, UNI 4544 and AS 1831, there are no mandatory stipulation to the chemical composition. Actually, from different standards, their suggested chemical compositions are very different, but all of them denoted that the chemical composition should just be reference, and will not be taken as quality inspection standard.

Of course, if you need to stipulate the chemical composition to meet the special application, then you should denote the allowable chemical element range on the drawings or in your requirements.

The Application of GGG40

GGG40 is a very good material grade of ductile iron, which has good tensile strength and yield strength, and especially very high elongation rate. The higher grade will mean the lower elongation, so GGG40 has the highest elongation rate in all ductile iron grades.

This material is suitable for many industrial and civil fields. Such as automotive castings, truck and agricultural parts, various machinery casting parts, manhole covers, even for pump and valve parts.

The following casting parts were produced by Dandong Foundry in China.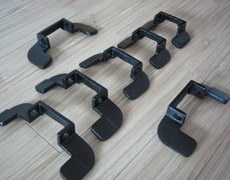 Pipe Clamp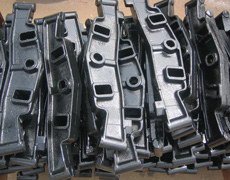 Tractor Axle Support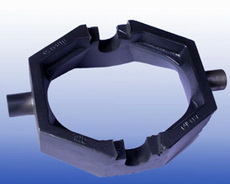 Truck Cradle Support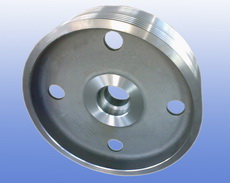 Large Belt Pulley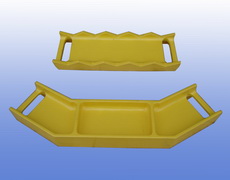 Vehicle Iron Bracket