How to make a gas burner?
One customer asked us how to produce a gas burner, so I told him the process of manufacturing gas burners, and share it here.

Firstly, assure the cast iron grades, normally, the ASTM A48 CL20 should be very suitable for normal gas stove burners, but sometimes, customers may require CL30 to get better strength. However, CL35 will not be suitable since this material grade is too difficult for drilling the vent holes.

Secondly, assure the casting patterns. The suitable patterns are aluminum pattern for the outside shells, and iron pattern for the inside cores. In other words, manual green sand casting process to make the shells, and pre-coated resin sand casting process to make the inside cores.

However, there are two points needed to concern. The green sand must be very fine, the normal sand sizes will be too coarse, which will cause bad surface quality and more casting defects. The pre-coated resin sand is necessary to guarantee the good inside surfaces.

Thirdly, drilling the vent holes. The vent holes on the gas burners are very small, about diameter 0.19 inch, so drilling is very necessary.

Finally, painting heat resistant black paint, or porcelain / ceramic treatment, then packed. Dandong Foundry has a casting workshop mainly producing some stove parts, including countertop stove burners, double gas burners, lp gas burner, 1 and 2 gas burner.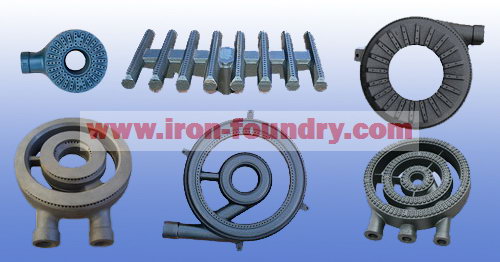 Main Casting Products
Stove Burner
Cast Iron Plate
Manhole Cover Casting
Brake Drum
Warping Head Casting
Ductile Iron Belt Pulley
Cast Iron Flywheel
Boiler Ash Door
Cast Iron Stove Grate
Tractor Gearbox
Pump Body
Cast Iron Brackets
Cast Iron Weight
Gear Casting
Large Cast Steel Bracket
Cast Iron Drainage Pipe
Flange Castings
Cast Iron Pipe Fittings
Burner Grates for Gas Stove
Grey Iron Counter Weight
Cast Iron Axle Support
Cast Iron Blocks
Gas Burner
Cast Iron Truck Castings
Cast Iron Tractor Parts
Cast Iron Stove Parts
Pump Shell and Valve Body