Green sand, resin sand, shell molding, iron and steel castings
produced by metal foundries, casting suppliers and exporters in China
As for the most of metal foundries and casting suppliers in China, the green sand, resin sand and shell molding are the normal production processes, the cast iron and cast steel are the normal casting materials.

1. Green Sand Casting

Most of sand castings were produced by green sand. It is mainly because its low cost, simple production equipments and flexible process. Currently, the green sand rough casting prices are about 1.24 USD/kg for grey iron, 1.35 USD/kg for ductile iron.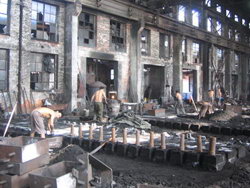 2. Resin Sand Casting

Resin sand is a type of Furan resin self-hardening sand. After heating, the sand will become solid, so it could produce middle and large castings with complex structure and high accuracy. However, the Furan resin material is costly, so cause high prices. Currently, the resin sand rough castings are about 1.38 USD/kg for grey iron, 1.49 USD/kg for ductile iron.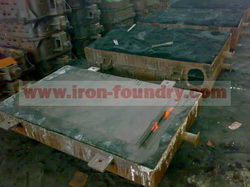 3. Shell Molding Casting

Shell molding process is also called as hot shell and core molding, which uses yellow phenolic resin as the sand binder. After baking, the resin sand molds become very hard and smooth, so the castings made by this mold will have very good surface quality and high dimensional tolerance. This process is suitable to produce small and middle sizes iron castings with high quality requirements and complex structures, or with thin wall thickness. But this resin sand can not be recyclable, so it will be costly. Currently, the rough casting prices by this process is 1.47 USD/kg for gray iron, and 1.58 USD/kg for ductile iron.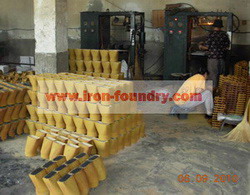 4. Cast Iron Products

Metal castings are the base of industries, so there are many types of metal parts were made by casting process. Cast iron products include metal parts for tractors, trucks, various machinery, automotive, pump, valve, pipe fitting, drainage system, stove, boilers, boats and many more areas.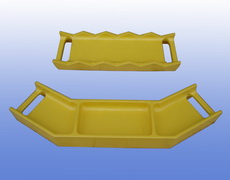 5. Cast Steel Products

Steel castings also have very wide demand. Alloy steel castings have special properties such as heat-resistant, anti-corrosion, wear resistant, according to their added alloy such as Ni, Cr, Mo, Cu etc. In China, most cast steel products were produced by sand casting, lost wax casting and lost foam casting process, however, shell molding process is seldom used for now in China.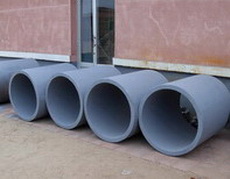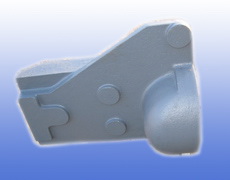 6. Metal Foundry, Casting Supplier, Exporters in China

There are many metal casting suppliers in China. Some are metal foundries, some are machining workshops that have their casting sub-suppliers, some are trading companies. As for middle and large suppliers, they have their own export license, so they could enjoy export tax rebates, which means they could offer lower prices to buyers.