Green Sand for Iron Casting
Green sand casting process is very suitable to produce iron castings, such as gray iron and ductile iron castings.

Green sand is also called as wet sand, wet clay sand, or moist sand in China, which use wet clay as the binder. It has some good properties to be used to produce iron castings.

1. Green sand is cheap

Since clay is rich, and easy available, so its cost is very low. This is the main reason for many iron foundries keep to use this casting process.

2. Green sand is recyclable

As for the automatic molding line, the recyclable sand is necessary to keep the continuous production. By the mature sand preparation equipments, the recyclable use is reachable. This is the main reason for most of automatic molding lines to use green sand as the molding materials. This good property also reduced the production cost to materials.

3. Green sand has smaller sand size

In order to get better surface quality and smoothness, some iron foundries will use very fine green sand, which means the sand size is smaller. Although very fine sand is not suitable to produce large iron castings, but it is definitely suitable to produce middle and small castings with higher surface quality requirements. Of course, fine sand will also reduce the surface defects, such as sand inclusion, air holes, and sand slag.

Green sand casting process has been used for thousands years, and it will still be the main foundry process for producing iron castings.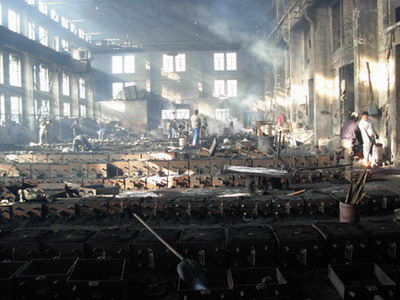 Main Casting Products
Stove Burner
Cast Iron Plate
Manhole Cover Casting
Brake Drum
Warping Head Casting
Ductile Iron Belt Pulley
Cast Iron Flywheel
Boiler Ash Door
Cast Iron Stove Grate
Tractor Gearbox
Pump Body
Cast Iron Brackets
Cast Iron Weight
Gear Casting
Large Cast Steel Bracket
Cast Iron Drainage Pipe
Flange Castings
Cast Iron Pipe Fittings
Burner Grates for Gas Stove
Grey Iron Counter Weight
Cast Iron Axle Support
Cast Iron Blocks
Gas Burner
Cast Iron Truck Castings
Cast Iron Tractor Parts
Cast Iron Stove Parts
Pump Shell and Valve Body
Cast Iron Umbrella Base