We will compare cast iron and carbon steel from mechanical and physical properties.
Cast iron includes gray iron and ductile iron. Gray iron is cheaper than ductile iron, but it has much lower tensile strength and ductility than ductile iron, so gray iron is not replaceable material for carbon steel, unless you do not have mechanical requirements, such as counter weights and stove parts etc.
Ductile iron, also called as nodular iron, is the replaceable material for carbon steel, because ductile iron also has high tensile strength and elongation.
Mechanical and Physical Properties
Some low grades of cast steel could be replaced by ductile iron, as long as their tensile strength and elongation are close enough. For comparing their mechanical properties, please refer to the Material specification ASTM A536 for ductile iron, and the ASTM A27 for carbon steel.
Ductile iron has better shock absorption than carbon steel, but carbon steel has better welding property than ductile iron.
Ductile iron has higher abrasion than cast steel, so ductile iron has good wear resistance, however, ductile iron is not a type of wear resistance material, for the seeding and tillage parts, it still needs further protection by tungsten plates or overlaying treatment.
The corrosion resistance of ductile iron is better than carbon steel, but still easily rusted, especially during sea freight.
Carbon steel has better impact resistance than ductile iron. Only low grades of ductile iron have comparatively good impact properties, for example, EN-GJS-400-18-LT has 12 J at -20 degree, but the higher grades do not have requirement for the impact test, but carbon steel has better impact properties.
All in all, if ductile iron could meet your requirement, then it will be the best choice, otherwise, you may have to choose carbon steel, if carbon steel can not meet you special requirement, then alloy steel.
Some Ductile Iron and Carbon Steel Castings
The followings are some ductile iron and carbon steel castings produced by our foundry.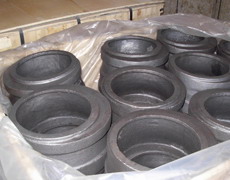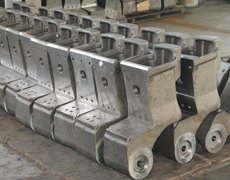 Carbon Steel Castings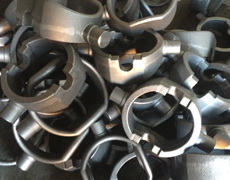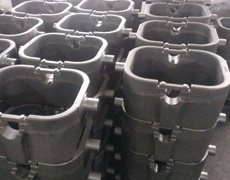 Ductile Iron Castings