Cast Iron Stove Parts
Dandong Foundry in China has produced many cast iron stove parts by sand casting processes, such as stove burner, burner head, furnace grate, top grate, BBQ grill, iron radiant, waffle maker, stove chimney and other stove casting parts. The gray iron grades include ASTM A48 class 20, 25, 30, 35, or by DIN GG15, GG20, GG25.

1. Cast Iron Stove Burner

There are many different types of stove burners, such as single, double gas burner, ring, square burner, bbq, camping, cooking gas burner, heavy duty stove burner, industrial gas burner, natural gas, propane gas burner, and portable stove burners.

The following small stove burner was produced by shell molding process. The yellow phenolic resin sand molds guarantee the good surface quality for both outside and inside surfaces. The material grade was ASTM class 20, 30 and 35 gray cast iron. The surface coating was black high temperature resistant primer.

The price of stove burners is higher than other iron castings, mainly because of the large drilling works, and hot shell and core sand casting process.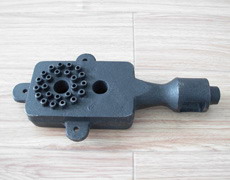 2. Stove Burner Head

The following stove burner head was a little larger, but it was also produced by shell molding process. Its material is gray iron GG15, or by ISO 150. This type of round burner head has been widely used for the industrial and residential fields in USA. Our foundry did not assembly them, we just completed the machining works.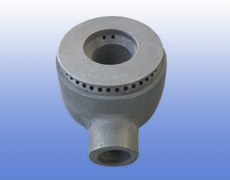 3. Cast Iron Furnace Grate

Furnace grates are very common parts for stoves and boilers. Our company produced some cast iron grates to our clients in USA and Germany. The material grades are commonly DIN GG15, GG20 and GG25. The good flatness and less deformation will be important for grate parts, so normally, the grates should be held in sand molds over one night.

Some furnace grates could be produced by manual green sand casting process, so their prices will be lower.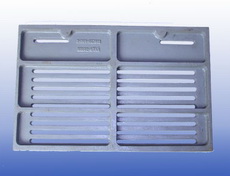 4. Cast Iron BBQ Grill

BBQ grill could be produced by gray iron ASTM A48 CL 20, 25 and 30. The good surface quality and less sand residues are the key quality issues. As a grill manufacturer, we need to sand blast them longer than other cast iron parts. Moreover, the good grinding works are necessary for removing the sharp edges and small burrs.

Normally, our factory produced grills by shell molding process. Because of the high production costs of shell molding process and large grinding works, so the grill castings have higher prices than other iron castings.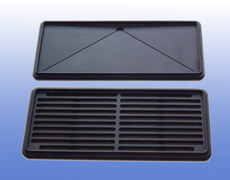 5. Cast Iron Stove Grate

Stove grate is also called as burner grate, including cast iron bbq grate, gas range grate. Our foundry mainly produced some heavy duty grates. The materials are mainly grey iron G15, G20, T150, T220, O115, O120, GG15 and GG20.

Because of requirements to the flatness and protection to small fingers, the manual green sand and shell molding processes are suitable to produce them. However, the green sand must be very fine sand, in order to meet the requirements to the surface equality, and less casting defects.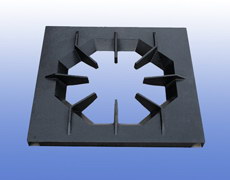 6. Cast Iron Stove Radiant

The stove radiant parts have special structures, there are many small buttons at the bottom position. Our company produced them by the manual green sand casting process, however, since we used fine sands, we still can meet the requirements to the surface quality and flatness, straightness. Moreover, ours prices are very low for this product.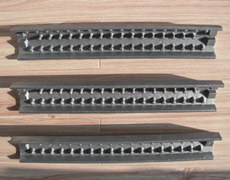 7. Cast Iron Furnace Door

Furnace doors are not easy to produce since they required the assembly after production. Moreover, some furnace doors required the adding to alloy Cr in order to meet the heat-resistant quality. The material is normally grey cast iron HT 200 or HT250 with 1% Cr. Our foundry mainly produced large and middle sizes of furnace doors for the boilers and furnaces.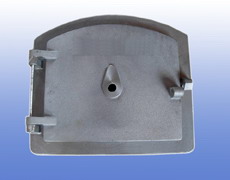 8. Cast Iron BBQ Plate

BBQ plates are very common in Japan. We are manufacturing these cast iron plates for our clients. The material grades are grey iron FC150, ISO 150, GG15 or ASTM No. 20. Good surface quality and sand blasting are the main quality issues. Since these plates are small and thin, so their prices will be higher than normal iron castings.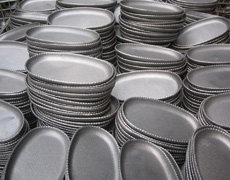 9. Cast Iron Waffle Maker
Our foundry produced some cast iron waffle makers for our clients. We used shell molding process to meet the requirements to the surface quality and less casting defects. The material is grey iron ASTM A48 No. 20 and No. 25.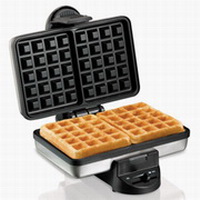 10. Cast Iron Stove Chimney

Our casting workshop produced this type of stove chimney for many years. We produced them by shell molding process because of their requirements to the thin wall thickness, and high surface quality. This chimney needed black high temperature paint, and its material grade was grey iron DIN GG15, GG20 and GG25.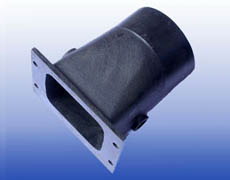 11. Cast Iron Stove Part

Our company also manufactured many types of stove parts, from small household furnace accessories, to the large boiler casting parts. Most of our clients for buying stove parts are from USA, Germany and Japan.

The key to produce good stove parts is low price, fine surface quality, less casting defects and good grinding.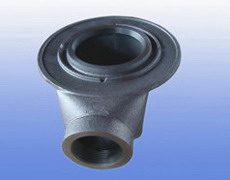 As an OEM foundry and professional iron casting manufacturer in China, our company have produced various cast iron stove parts for our clients. Our advantages are low prices and good surface quality. We have supplied casting parts to many countries, such as USA, UK, Japan, Germany, Australia, Austria, Spain, Czech Republic, New Zealand, Italy, Norway.