Sand Casting Foundries
Introducing some sand casting foundries in USA and China, whose main products are various gray iron, ductile iron and steel sand castings.
1. U.S. Casting Company

U.S. Casting Company pours a wide variety of carbon, low alloy steel along with grey and ductile iron in weights ranging from 10 to 8,000 pounds.

Using the latest in no-bake sand processes and among them are firms producing machinery and products in the following industries:

Gear Manufacturing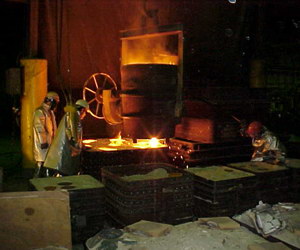 Pump and Valve
Steel Mills and Non-Ferrous Metal Producers
Mining Machinery
Railroad and Transportation
Rubber and Plastics Machinery
Construction Machinery
Oil Field Equipment
Machine Tool Manufacturers
Power Generation Equipment
Defense, Ordnance and Naval

2. Dandong Ruiding Foundry

Main casting materials: gray iron, ductile iron and carbon steel castings.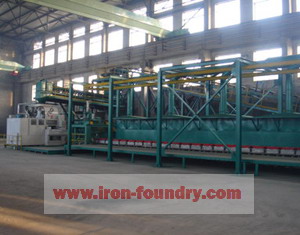 Casting Processes: FBO automatic molding line, resin sand molding, manual green sand molding, shell molding.

Melting equipment: 4 medium frequency furnaces, 1.5 tons each furnace.

There is own machining workshop to complete all rough machining and some finish machining works.

Main sand casting products include truck, tractor and machinery parts, pump and valve parts, stove and boiler parts, manholes and pipe fittings.

3. PACIFIC ALLOY CASTING COMPANY

Pacific alloy casting company, inc is a family owned & Operated Home of Abrasion - Corrosion - Heat-Resistant Alloys, Gray and Ductile Irons - Sand Castings.

They use no-bake sand, which is efficient and very flexible. It allows to quickly produce a wide range of casting sizes on one production line.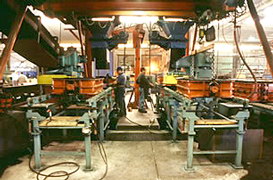 The production scope of the castings:

Specification for Gray Iron Castings - ASTM - A-48 Gray Iron
Specification for High-Temperature Service Steel Castings ASTM A-216
Specification for Heat Resistant Steel Castings ASTM A-297
Austempered Ductile Iron Castings - ASTM A-897A
Specification for Ductile Iron Castings - ASTM A-536

4. G&S Foundry

G&S Foundry has been producing quality sand castings, gray/ductile iron, steel, aluminum, brass, and bronze since 1951 in American.

Their capabilities: Green Sand



14" x 19", 8" Over 8" Match plate
20" x 24", 9"Over 9" Match plate
32" x 40", 16" Over 16" Cope and Drag
20" x 32", 16" Over 16" Green Sand

Casting weight: from 1 oz. to 2000 lbs. in iron

5. Great Lakes Castings

Great Lakes Castings foundry produces gray iron castings, ferrous castings, and green sand castings for a variety of applications in American.

GLC provides castings in weights ranging from a few ounces up to fifty pounds.

Their castings are all in the gray iron classes 18-40, with a base iron tensile of 30,000.

Their high-quality casting products serve a diverse group of industries:
Heating & Air Conditioning


Refrigeration
Construction
Manufacturing
Automotive Aftermarket
Machinery
Industrial
Agricultural
Compressors & Valves

6. Plymouth Foundry, Inc.

Plymouth Foundry Inc. is an ISO 9001:2000 certified custom manufacturer of gray, ductile and green sand iron castings and CNC machining nationwide.

Their materials poured: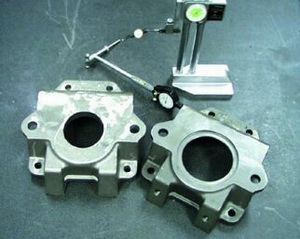 Austenitic Ductile Iron ASTM A571-71
Ductile Iron ASTM A536-84
Gray Iron ASTM A48-83
High Silicon High Mo Ductile Iron

The casting process: Green sand casting process

The weight range: 1 oz to 150 lbs

7. Deivam Foundry

Deivam Foundry is one of the leading manufacturers of steel castings spheroidal graphite iron castings and sand castings.

Their facilities:

Medium frequency induction melting furnace manufactured by Pees Induction
Equipments, Chennai 200 KW with tow crucibles of 500 Kgs.

3 & 1 MT EOT crane - Movement from furnace to 20 meters at main bay


S.G. Treatment laddle - 3 Nos (Capacity - 900)
Cupola 1.5 MT Per Hour - 1 No.

Moulding Process:
Hand Mould (Green Sand&Co2), Machine Mould (Green Sand).

Core Making:
Sand Mixer - 150 Kgs Capacity - 1 No

8. Smith Foundry CO.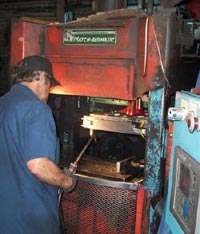 Smith Foundry specializes in gray iron, ductile iron and sand castings in the USA.

Grades of ASTM A48 Grey Iron Produced at Smith Foundry include Class 30, Class 35 and Class 40.

Grades of ASTM A536 Ductile Iron Produced at Smith Foundry include 60-40-18 (D4018),
65-45-12 (D4512), 80-55-06 (D5506) and 100-70-03 (D7003).

9. Bremen Castings

Bremen Castings, Inc. is a precision CNC machine shop with our own green sand foundry under one roof.
Bremen Castings Inc. is known worldwide for its quality gray and ductile iron machined castings.

The specifications of gray iron: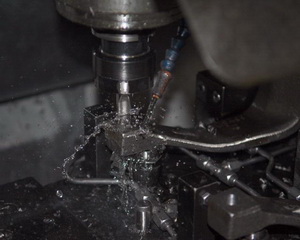 ASTM: A48----83
A159---83
SAE J431

The specifications of ductile iron:
ASTM: A48----83
SAE J434
ASTM A897--90

10. Vestal Manufacturing

Founded in 1946, Vestal Manufacturing is located in Sweetwater, Tennessee. It is extremely proud of its modern gray iron foundry and steel fabrication plants.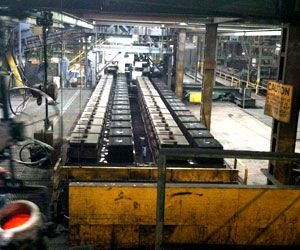 Vestal Manufacturing's facilities consist:
103,000 square-foot foundry pouring Class 30-35 gray iron
105,000 square-foot steel-fabrication plant

Their foundry facts:
Melting is accomplished in three 15-ton coreless furnaces.
Daily capacity exceeds 120 tons.

A fully automated FBO-III Sinto 20" x 26" molding machine and
handling system that produces casting with unmatched quality

During the entire process, lab checks are made on metal and casting sand to assure high quality finished products.