Grey Iron vs. Nodular Iron
Many people will wonder the differences between grey iron and nodular iron, this article is intended to introduce the grey iron and nodular iron in microstructure, physical properties and chemical composition.

1. Microstructure

The key feature of grey iron is that it includes flakes of graphite which develop during the cooling process. These graphite flakes give grey iron a distinctive gray color when it is fractured, and they are also involved in many of the physical properties of this iron alloy.
The microstructure of nodular iron is the discrete form of the graphite nodules. Nodular iron is created by an alloying process, which converts the crack-promoting graphite flakes of gray iron into nodules. With this micro-structural transformation, the metal acquires superior ductility and elongation characteristics.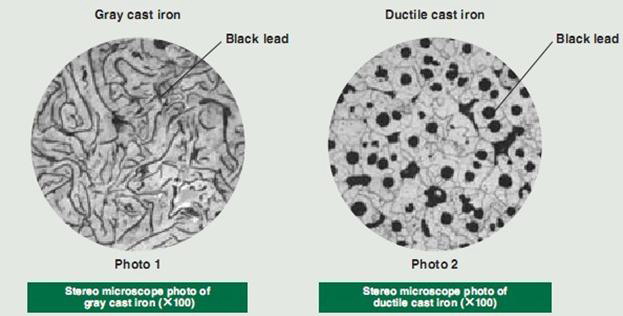 2. Physical Property

Compared with grey iron, nodular iron has an absolute advantage in intensity. The max tensile strength of nodular iron is 90k psi, while the max tensile strength of grey iron is only 35k psi.
Nodular Irons are generally superior to grey irons, regarding their yield strength. The max yield strength of ductile iron is 40k psi; Grey iron is not very malleable or strong, it fractures easily.
Nodular iron is more flexible and elastic than other cast irons. Nodular iron has higher strengths, greater elongation and better resistance to impact than grey iron.
The nodular iron family offers the design engineer a unique combination of strength, wear and fatigue resistance and toughness as well as excellent ductility characteristics. In all its grades, nodular iron exhibits mechanical properties that make it an ideal materials for mechanical and automotive parts.
Gray iron is the most versatile of all foundry metals. With the exception of wrought steel, grey iron is the most widely used metal for engineering purposes. Grey iron is an extremely inexpensive metallic material and is readily available in large quantities at almost any foundry.

3. Chemical Composition
Chemical composition

Cast Iron Material

Grey iron (%)

Nodular iron (%)

C

2.9~3.5

3.5~3.8

Si

1.4~2.1

2.0~3.2

Mn

0.6~1.0

<0.5

P

0.1~0.5

<0.08

S

0.1~0.12

<0.025

Mg

0.03~0.06

RE
The different chemical composition of grey iron and nodular iron directly determines their different properties. After reading the above analysis, we hope your can get a better understanding about grey iron and nodular iron.