Gray and Ductile Iron Foundries
These are some iron foundries specializing to produce gray and ductile iron castings.

1. Dandong Foundry

Dandong Foundry is a professional iron foundry located in China. They have over 50 years experiences in iron casting, steel casting and machining fields.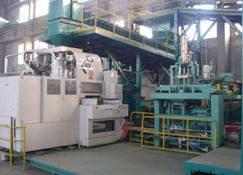 Main Products:
iron and steel castings for stoves, boilers, tractors, trucks, pumps, valves, pipe fittings,
manholes and tugboats etc. the unit weight is up to 1.5 ton.

Main Materials:
Gray iron from class 20 to 35.
Ductile iron from class 60-40-18 to 80-60-03.
Mild and high carbon cast steel.

The casting workshops include FBO automatic molding line, resin sand molding, green sand molding and shell molding process. They have various machining equipments to complete the rough and finish machining works in house, and can issue the chemical and mechanical quality certificates.

2. Decatur Foundry

Decatur is the foundry to provide high-quality castings. They are in the U.S. state of 1745 North Illinois Street. In the 1970's, the Decatur Foundry expanded into supplying gray and ductile iron castings to pump, valve and electric motor industries.。

Their equipment: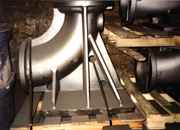 Whiting Cupola
2 Induction Coreless furnaces

Melt Capacity - 1,200 Tons Per Month
Metals Poured
Class 25 to Class 45 grey iron all to ASTM Specifications
High alloy Ductile and Grey Iron
Pearlitic and Ferritic Ductile

Casting Size: 50 to 15,000 pounds

Achieved the standard:
Gray iron CL25 to CL45 in ASTM grades A48, A126, A159, A278, and A319.
Ductile iron ASTM grades A395 and A536. Complete ductile service ferritic to pearlitic. 60-40-18 to 100-70-03 as cast or heat treated.

Customized Slow-Mold cooling stress relieved castings.
The scope of their production:
Gray Iron - 50 to 12,000 pounds.
Ductile Iron - 50 to 12,000 pounds.

3. Calhoun Foundry

Located in Homer, Michigan, Calhoun Foundry Company is a family owned grey and ductile iron foundry. Using Hunter 14"x 19" and 20"x 24" Automated greensand molding machines, produces castings for a variety of industries including, automotive, agriculture, and refrigeration.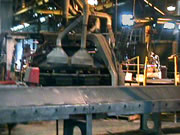 Their services:
Gray irons: G20; G25; G30; G35
Ductile irons: 60-40-18; 65-45-12; 80-55-06; 100-70-03

Melting: Capacity 80T/day

Calhoun Foundry has value added operations which include: heat treating, grinding, polishing, coating and machining.

4. Hodge foundry

Founded in 1876 and located in Greenville, Pennsylvania, Hodges foundry is an international professional engineering casting production high quality complex gray and ductile iron castings foundries.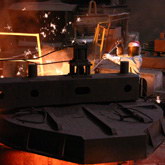 Their Manufacturing Facilities:
Hodge Foundry's manufacturing facilities include ten pits of various sizes, five continuous sand mixers, three 30-ton vertical channel induction furnaces, and an assortment of overhead crane capabilities ranging from 10 up to 100 tons.

The scope of their production:
Since 1876, Hodge Foundry has been a leading manufacturer of large gray and ductile iron specialty castings ranging from 3,000 to 200,000 pounds. While maintaining a strong presence in the global mining, energy and industrial markets over the years.

5. O.K. Foundry

Ok foundry is a family owned foundry since 1912 in the United States of Virginia. Although they are small, they use modern high frequency induction furnaces to melt gray and ductile iron. These fast melt furnaces allow us to make smaller batches of metal with tightly controlled metallurgy adjusted to match customer and job requirements.

Your options with OK Foundry include: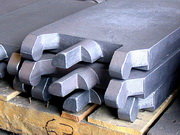 Gray and ductile iron castings up to 700 lbs.
Green sand squeezer molding for gray and ductile iron.
No-bake molding for gray and ductile iron.
Prototype and short run casting of gray and ductile iron.

Some typical applications for our gray and ductile iron castings include:

Machinery bases, housings, and brackets.
Pump bases, brackets, and housings.
Gear, cam, and follower blanks.

6. Dakota foundry

Dakota Foundry Inc., a manufacturer of gray and ductile iron castings, located in Webster South Dakota. At Dakota Foundry, experience is plentiful. Their production personnel have over 200 years of combined experience in the Foundry business.

Their gray iron castings and ductile iron castings:
Gray iron castings from ounces to 5,000 pounds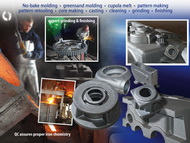 Mechanical Properties Class 30 Class 35 Class 40 Class 45 Class 50
Tensile Strength (PSI) 30,000 35,000 40,000 45,000 50,000
BHN (Typical) 170-241 187-241 187-255 196-255 196-269
Suggested Minimum
Wall Thickness 3/16" 3/8" 1/2" 5/8" 3/4"

Ductile iron castings from ounces to 3,000 pounds

Mechanical Properties 60-40-18 65-45-12 80-55-06 100-70-03
Tensile Strength (Min PSI) 60,000 65,000 80,000 100,000
Yield Strength (Min PSI) 40,000 45,000 55,000 70,000
Minimum Elongation in 2" 18% 12% 6% 3%
BHN (Typical) 143-187 156-217 187-255 240-302

7. Saguenay Foundry

Saguenay Foundry is a world-class iron foundry specialized in CGI, gray iron and ductile iron castings. They are an accredited supplier by the Lloyd's Register for ductile iron parts up to 5,570 kg (12,280 lbs).

Types of alloys produced: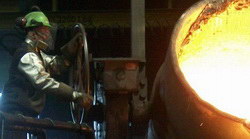 Gray iron castings: ASTM A-48, ASTM A-278, ASTM A-319
Ductile iron castings: ASTM A-536, DIN EN-GJS

Saguenay Foundry can cast the following:

Gray iron from 113 to 6818 kg
Ductile iron and Compacted Graphite Iron (CGI) from 113 to 5455 kg

8. Gartland foundry

Gartland Foundry is located in Terre Haute, Indiana, in the center of Mid-America. The Gartland Foundry has long been known as the leader in highly machinable castings with short lead times and tremendous on-time delivery capabilities.

Their processing: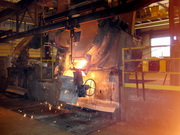 Industries Served Include:
Agriculture, Automotive, Electric Motor, Oil and Natural Gas, Water Supply

Iron Casting Products Include:
Brackets, Gears, Motor Frames, Valves, Water Pumps, Kettlebells

Their equipment:
Melting

Two 8,000-lb., coreless induction melting furnaces, rated at 5 tons per hour
Baldor Electric Generator for electrical power backup to furnace water pumps, coolers, hydraulics.

9. Mid-City Foundry

Mid-City Foundry Company began in Milwaukee, Wisconsin as a small, gray iron foundry producing engine castings. Milwaukee Division produces complex gray, ductile, compacted graphite, High Silicon-Moly ductile and alloyed iron castings using air set molding with weights ranging from 80 to 3,000 lbs.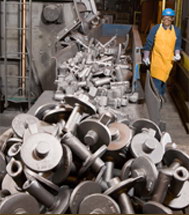 Their capabilities include:
Jobbing and semi-production of gray, ductile and alloyed iron castings at two facilities

Producing castings of medium to complex design

Specializing in, but not limited to, thin walled, pressure containing or metallurgical stringent requirements

Flexible manufacturing facilities engineered to accept existing as well as newly designed pattern equipment

Flexible and adaptable processes with an emphasis on controlled cost and consistent quality.

10. Penticton Foundry

Penticton Foundry is a full service foundry. They've been producing ductile iron castings, gray iron castings, and high chrome white iron castings for clients across North America from our foundry in Penticton, British Columbia, Canada since 1935.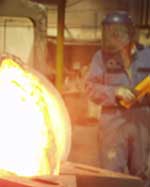 Their main products are ductile iron and gray iron castings.

Ductile Iron:
A536 Grade 60-40-18 150 - 180 BHN Grade with maximum ductility and low temperature toughness,
excellent machinability.
A536 Grade 65-45-12 180 - 210 BHN
A536 Grade 80-55-06 210 - 250 BHN High strength, good wear resistance, moderate ductility and
impact resistance, good machinability.
A536 Grade 100-70-03 250 - 300 BHN
A536 Grade 120-90-02 300 - 360 BHN Very high strength and wear resistance, normal machinability.
Gray Iron:
A48 Class 20 110 - 140 BHN Excellent machinability and damping capacity. Good resistance to thermal shock.
A48 Class 30 150 - 180 BHN.
A48 Class 40 220 - 250 BHN Wear resistance increases, strength increases, finer finish after machining.

11. Benton foundry

Benton is a small town in rural Pennsylvania. Benton foundry is a state-of-the-art gray and ductile iron jobbing foundry. On a daily basis, Benton runs the gamut: pumps, valves, gear boxes, manifolds, and more... from simple non-cored jobs, to water jacketed work and moderate volume work with up to 21-core assemblies.

Benton pours class 25, 30, 35, 40, and several Heat Resistant Iron grades. From a common ductile iron base, 60-40-18 (as cast or annealed), 65-45-12, 80-55-06, 100-70-03, 120-90-02 and ADI grades 1 through 5 are poured.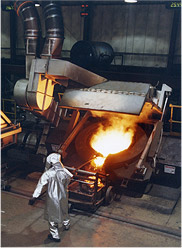 Gray Iron Advantages:

Resistance to cracking
High temperature properties
Inexpensive to produce and to finish
Produces repeatable metal products
Offers castings with significant cast-in features and details

Ductile Iron

Ductile Iron offers the castability, machinability, and corrosion resistance of gray iron while adding the high strength, ductility, and hardening ability of steel. Their ductile iron castings are well known throughout the industry for high-impact resistance and a high modulus of elasticity and strength, resulting in heavier load capacity with less deflection.

12. Winnebago foundry

Winnebago is a jobbing foundry producing gray and ductile iron castings from ounces to 3000 lb. They pour gray iron in Class 20, 30 & 40 and ductile irons 60-40-18, 65-45-12, 80-55-06 and 100-70-03. We can produce high silicon, molybdenum alloyed ductile irons such as Cat 1E1299 and offer some specialty irons such as Hi-Sil Moly ductile iron.

A brief overview of what they offer: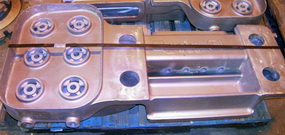 Ductile iron

Replace multiple component assemblies with a single ductile iron casting,
improving machine reliability and strength at a lower cost.

Gray iron

Also known as "cast iron", gray iron is suited for a variety of industries ,including, heavy, machinery, gray iron valves and transportation.