Some Cast Iron Foundry Production Photos
These are some production photos from Dandong Foundry, including automatic molding line, ductile iron inoculation equipment, and traditional manual green sand casting production workshop.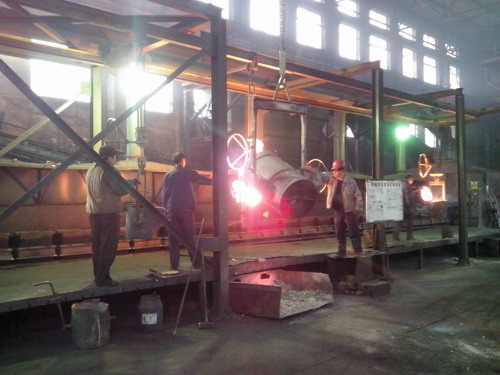 The above is the FBO horizontal parting box automatic molding production line. Our workers are pouring the hot liquid iron from the large ladle to small ladles. The sand flask size is 510*610mm.
The above is the ductile iron thread feeding inoculation equipment. This equipment could complete the ductile iron inoculation process automatically, so could improve the rate of spheroidization to higher than 85%. So, could improve the material quality of ductile iron castings stably.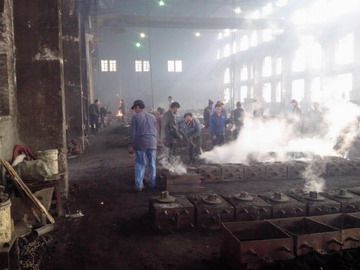 This workshop is very traditionally, manual green sand molding process. Our workers are getting the hot iron castings out of sand molds now. This casting process is very old, however, its low production costs and flexible production for small quantity and various casting sizes are also its advantages, so our foundry is still keeping to produce some iron castings by this process.