Casting Pattern and Sand Mold
During our quotation, some clients may confused about the difference of casting patterns and sand molds. Herein, we make a brief introduction to their difference.

As for sand casting process, the patterns are a type necessary and essential of tooling for production. The Patterns have the similar shapes of the castings, but normally they are assembled by several parts.

The normal materials for casting patterns are wooden, resin (plastic), aluminum, iron and alloy steel. The wooden patterns are used for very small batch production, or just for making samples. The resin patterns are not expensive, and have very long work life time, so they could be used to batch production, and especially be used for producing large castings. Aluminum patterns are used for manual green sand casting process. Iron patterns are used for automatic molding lines and shell molding process. Alloy steel patterns are used permanent molding process.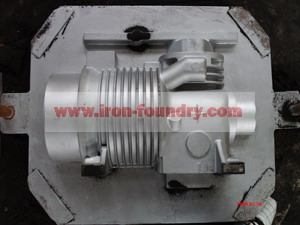 Aluminum Pattern
During the casting production, we use one set of patterns to produce many same sand molds, such as 100 sets. Then we pour the liquid metal into these sand molds, then finally we could produce 100 pieces of metal castings. So, the sand molds are the products made by patterns, and the castings are the products made by molds.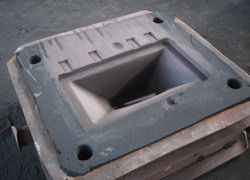 Resin Sand Mold
Some sand molds are recyclable such as green sand and resin sand, some are not, such as shell molds, which is why the shell molding castings are more expensive.